My Mother, My Special Valentine Always Bella, Clover B's First Baby Born 2016 Thanksgiving Eve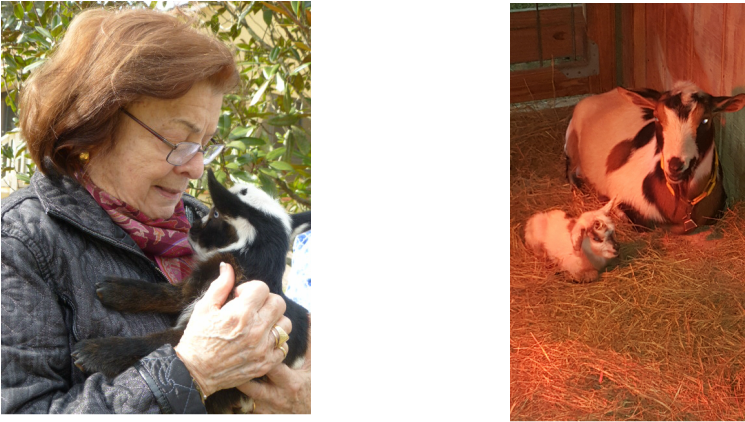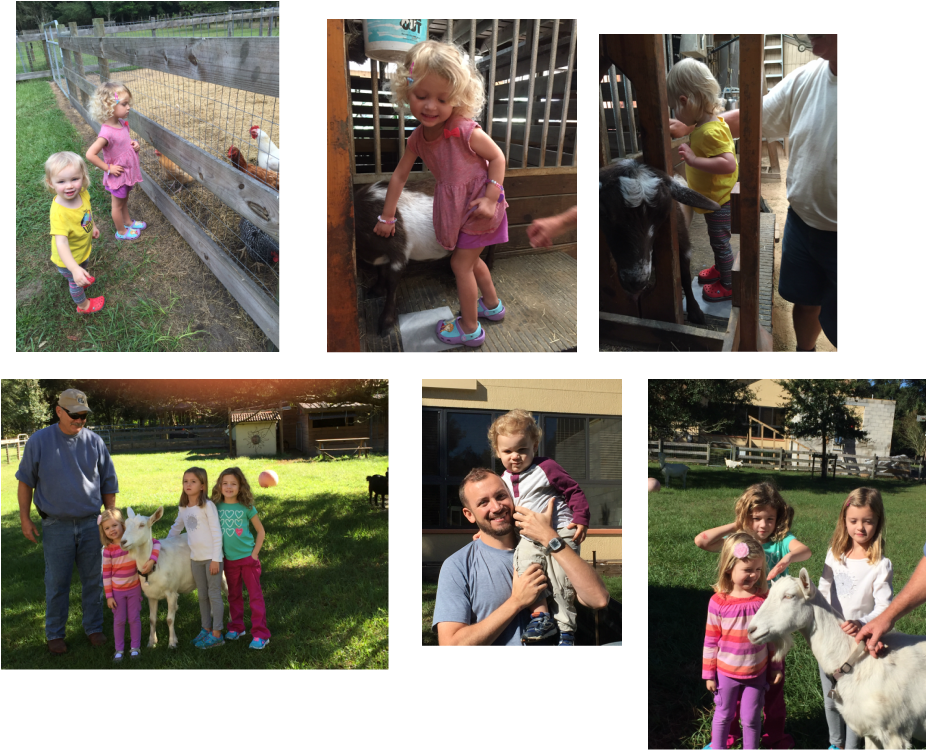 From a child's perspective, there is so much to do and see, goats to milk, chickens to feed....all the grandkids love to share in the fun.
THE GOAT WHISPERER...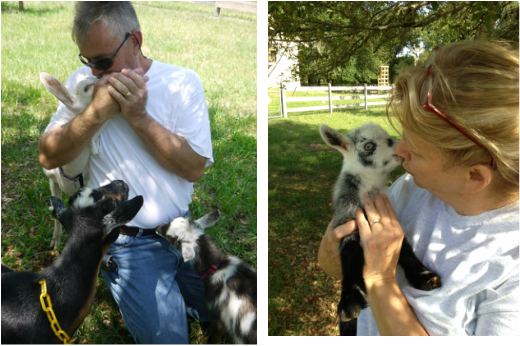 Wonder what he is telling the goats? The other goats are wondering too! As each day passes, the goats and Viv commune in their secret language, "goatanese" and we're learning to speak it as well.
---
Our hearts belong to our girls: including the Rosie B, Ellie Mae and our does....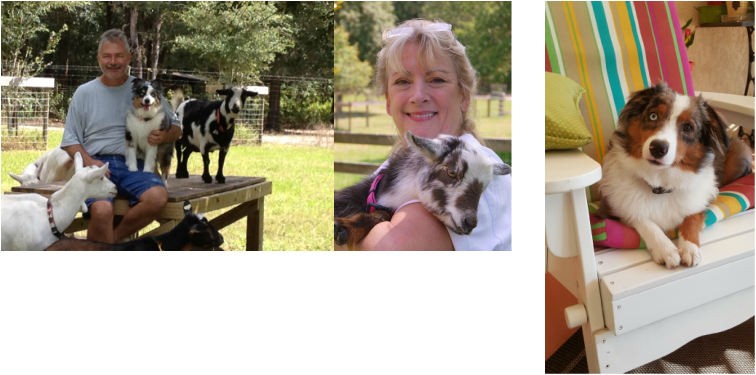 Along with our other girls.....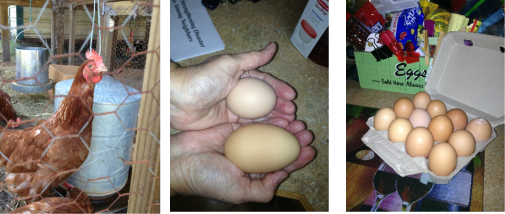 In addition to the goats, we have graduated to almost three and a half dozen chickens including rhode island red, barred rock, easter eggers, olive eggers, and other types of hens, who lay the most beautiful eggs. The hens generally lay from a dozen eggs to almost 30 eggs per day, so we have some extra for sale from time to time. Give us a call.
---
The kids and parents enjoy the beach every Memorial holiday and we enjoy seeing them.

OUR JOURNEY. It's been 6 years since our first milking experience on July 15, 2012 with Velvet. Both she and Rosebud, our first goats, have passed on to the heavenly goat gates. It has been a learning experience for us over the past several years and as we refocus on our original goals of making artisan cheeses, we remember having time to fish, having a vegetable garden, having time to make soap, and having a life...so we celebrate our milking experience and move on to more things in life. We will be putting the goats in the slow lane.
OUR JOURNEY LOOKING PAST.......
It was mid-Fall, and the leaves were falling, the goats were getting their long haired coats for winter, and the squirrels were stockpiling all the acorns. We had been looking forward to this season, with the end of love bugs, high electric bills, and the endless heat. Viv was faithfully milking Velvet and making chevre and hard cheese, with the hopes of one day soon being able to have two goats in milk. With the pastures needing less mowing, he hoped to have time to practice on the molded cheeses, from camembert to blue. We were going to add another doe this Fall, perhaps Saanen or another registered Nigerian Dwarf doe, as we wanted more kids running around the pastures, and certainly more milk.


I am going to archive the older posts, so you can see how we've grown. Velvet has been yielding almost a quart per milking, up from the pint she first gave us. Giddy is hopefully bred and we'll let you know how that goes. She certainly likes to play, and she gets on the table with Velvet every morning awaiting their treat of an alfalfa cube - it's as good as candy to them. Prancing and kicking up her heels, Giddy plays with Vivian like he is another goat. She charges him, then stops abruptly, rearing up and then stomping down, waiting from him to do the same thing. After he follows her lead, she runs around the pasture, hops up on the table, and says, let's play that one again....

HISTORICAL.....
We Got Milk!" It was a long hot day on the 15th of July 2012, and Viv was tired after putting up fences and digging post holes all day. As we wrapped up our work, he asked me if we should wait before trying to milk Velvet, as this would be a new adventure for her as well as us. He had waited for this opportunity for a long time, and I knew with a little encouragement and help, we could "getter done." It always looks easy when someone else is doing it - but after half an hour, with lots of cajoling and sweet feed, Velvet stopped bucking and kicking, and settled down to being milked by hand.
Her twin bucklings, when hungry, would corner her and butt with their heads at feeding time, so was she thinking? "Hey, perhaps this isn't so bad after all. I'm being brushed, getting sweet feed and special attention." Velvet produced about a quart a day, and we were on our way to having enough milk to make cheese!
---
FOR EVERYTHING THERE IS A SEASON...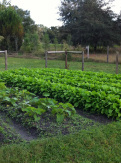 Hi. I'm Phylis Caruso, and with my husband, Vivian Layton, we are sharing our journey with you from the city life to country life. We raised my three sons in Orlando in the early 1990's, and after they left for college, we moved to the suburbs of Deland, Florida. Our first endeavor was a log cabin on the St. Johns River, fishing and growing vegetables, enjoying the river view, boats and lifestyle.

As fate would have it, we changed courses in mid-stream, put our log cabin up for sale, purchased our "farmette" near Glenwood, and thus changed from "boat-people" to "goat-people". We now spend our time with our mini-aussies Rosie B and Ellie Mae, the chickens and our Nigerian Dwarf goats. It has turned out to be a full time labor of love for both of us, but especially for my husband, as I have not yet retired. Although not too far from city life, this country lifestyle has a relaxed, quiet and more sustainable oriented approach, which we thoroughly enjoy.

We look forward to spending our retirement "on the farm" making goat cheese, canning our harvest of vegetables and fruit, raising the chickens for eggs and the goats for milk, cheese, and, of course, producing a quality herd of goats.
---