Capretta Farms is open this Fall for egg purchases. Our does will be bred and kids will be available next Spring.
FRESH FARM EGGS FROM HAPPY CHICKENSOur pasture grazing hens enjoy the sunshine and daily free range with our goats; they receive the best care and feed, and always give our customers

the most delicious eggs to eat. For pick up at the farm: $4.00 per dozen




OTHER PRODUCTS INCLUDE: Goat milk yogurt and goat cheese, when available.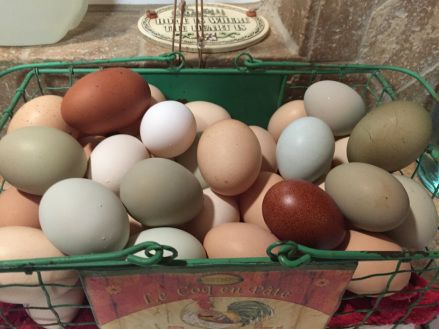 WELCOME TO CAPRETTA FARMS
"For everything there is a season, and a time for every purpose under the heavens.."



​


















Capretta Farms is a small hobby farm located in Volusia County, Deland, Florida, on a two-lane designated scenic highway, with rolling hills and beautiful scenery. It is just outside of Glenwood and 45 minutes north of Orlando.
---
"capretta" means "little goat" in Italian.....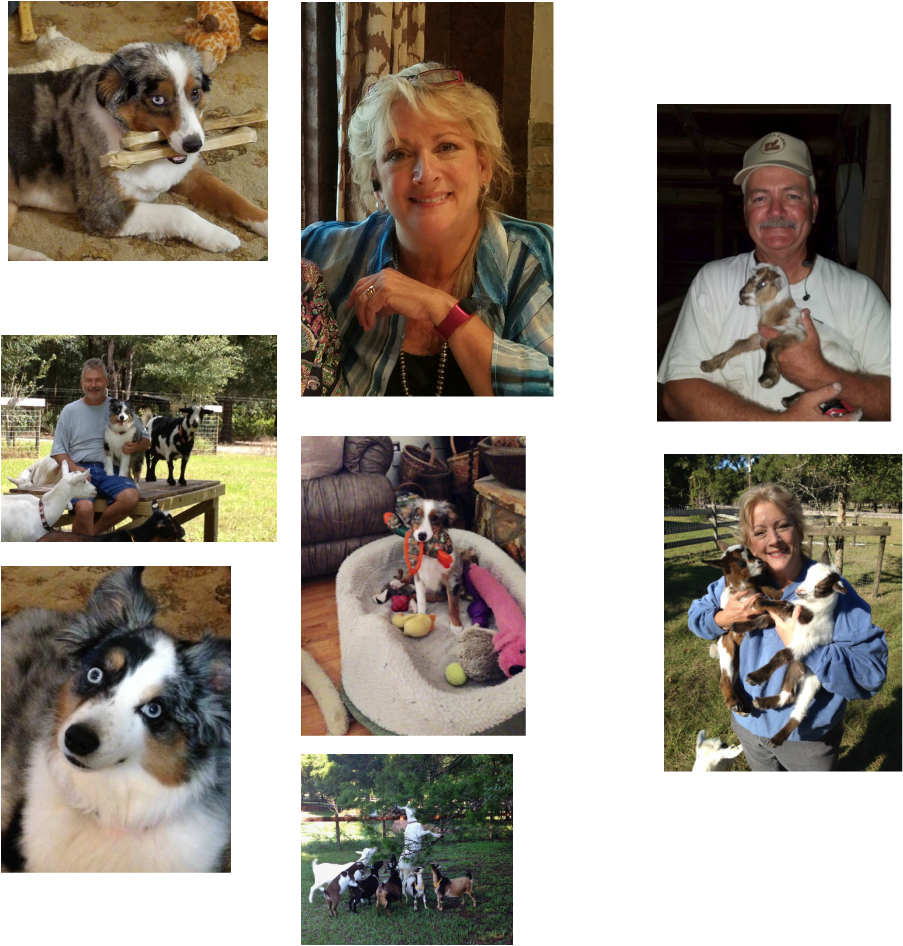 Established in 2011, our mission is to raise, breed and sell our pure-bred, registered Nigerian Dwarf goats (as well as other breeds) for dairy, show, or as pets. In addition, we plan to provide the best dairy and goat products available in our area.

Capretta Farms is registered with the American Goat Society (AGS), American Dairy Goat Association (ADGA), and the Nigerian Dwarf Goat Association (NDGA).

Hours of Operation: Call to confirm we are available as we have a "locked" gate.....
Monday thru Friday 10 a.m. to 4 p.m.
Saturday-by scheduled appointment only
Sundays - CLOSED

Mr. Vivian Layton, Member/Manager
Phylis Caruso (Layton), Manager
1725 Grand Avenue
Deland, Florida 32720

Viv Cell: 407-718-6623


---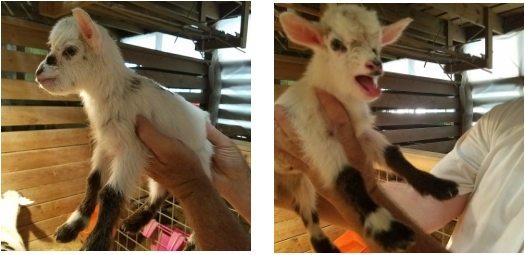 Meet Capretta Farms Lilly Rose.

She was born on April 1st, but no kidding, she is a sweet heart. White, with brown and black stockings and some spots, Miss Lilly is NDGA registered and is retained by the farm. She is a triplet from Dogain Nigerians Fancy Dancer and Capretta Farms Buddy Rose.
---
Dear Prospective Buyer,
Please don't be offended by the questions you are asked about your experience with, or the living conditions and general management practice of, goats. It is not to challenge you or insult you or your background - you may have 30 or more years behind you, but, if I don't know you, I won't know that. Being an animal lover is wonderful, but a long way off from understanding the complexities of caring for a dairy goat and ensuring a long, happy and productive relationship.
If you have experience and an understanding, be glad that the seller you are talking to cares enough about their animals and program to ensure they go to the right home. And be satisfied that they want you to be successful too! Not all breeds and programs are the same - and to put one of my charges into the care of one I have not asked the basic questions of, is as bad as putting your human child into the hands of a stranger - worse, even, since once my charge leaves me, I lose all control and oversight to their future. These "kids" have been in development for years - and all deserve the best opportunity they can get.
So, before you get offended when I ask if you have had goats, have shelter, have a vet, know what they eat... Would you send something that took you years accomplish into the unknown?
If you still believe I don't have the right to ask questions, please do let me know, so I can save us both some time...
Sincerely,
The one who is considering trusting you with a precious life...
Credit given to:
Little Garden of Eat'n,
LLC
"PLEASE FEEL FREE TO CALL US TO CHECK ON MILK AVAILABILITY. FROM TIME TO TIME WE WILL HAVE SOME FOR SALE."

FOR EGG PURCHASES, PLEASE TEXT PREFERABLY, OR CALL AHEAD (407) 718-6623 SO THAT WE CAN BE AVAILABLE. WE ARE A WORKING FARM WITH A LOCKED GATE AND TELEPHONE RECEPTION IS QUESTIONABLE AT TIMES, SO LEAVE A MESSAGE AND WE WILL GET BACK WITH YOU.

We are proud sponsors of the 2017 14th Annual EAST COAST CLASSIC JACKPOT SHOW,
​ September 16-17, 2017 in Deland, Florida.
---
OUR CAPRETTA FARM KIDS AND WHAT THEY ARE DOING NOW.....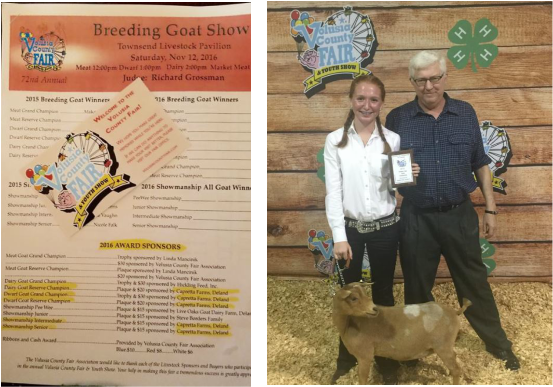 CAPRETTA FARMS SPONSORED THE DAIRY GOAT RESERVE GRAND CHAMPION AWARD, THE SENIOR AND INTERMEDIATE SHOWMANSHIP AWARDS AS WELL AS THE DWARF GOAT GRAND AND RESERVE CHAMPIONSHIP AWARDS AT THE 2016 VOLUSIA COUNTY FAIR.

OUR FRIEND CYDNEY SLAPA OF WHISKEY ACRES WON THE SENIOR CLASS OF SHOWMANSHIP, SECOND WITH SUNNY DAY IN UNDER 13 MO. CLASS, THIRD IN OVER 24 MO. WITH MAGGIE MAE.


---
CAPRETTA FARMS is proud of Katelyn Dumas and her mini-saanen, Capretta Farms Tessa Rose, who won a blue ribbon in her class at the Florida State Fair in February 2016. A member of Palmetto High FFA, Katelyn purchased Tessa last September with aspirations of winning and she proved to be a winner herself.





CAPRETTA FARMS Tory's Tempest, twin brother of Tessa, has lots of fun with his family too. April Dawn now has four of our goats, and is looking again. Goats are like potato chips, can't have just a few....


---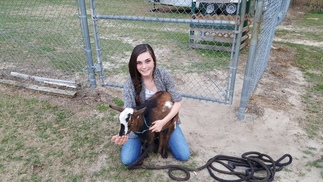 Capretta Farms Gideon Blue ("Giddy") and his owner, Grace, from the Ocala area, enjoy each other's company. Giddy thinks he is a dog and tries to get in Gracie's lap. He will be going to summer camp at a friend's goat farm as the high school where he stays is closing for the summer. Thanks Gracie for taking such good care of him.




---
All information and pictures on this website are the exclusive property of Capretta Farms. No copying, reproduction or any other use is granted without the expressed permission of Capretta Farms.