Capretta Farms has a Feed Master license issued by the State of Florida, Department of Agriculture and Consumer Services, and legally sells all its dairy/egg products under the proviso "For Animal Consumption Only." Although marketed and labeled for animal consumption, our products are made under the highest standards and sanitary conditions, as we believe our products should be the best. Our products are for the customers purchasing at the farm, and are not intended for re-sale.

All dairy products are sold on availability only, for pickup at the farm, so give us an advance call (407-718-6623) if you are interested in purchasing. We are not a commercial dairy, and we sell our milk when there is a surplus.
---
FARM FRESH LARGE MULTI-COLORED EGGS
Healthy happy chickens lay the best tasting eggs. Ours eat strictly laying feed, bugs and worms, with no hormones or antibiotics. Our chickens are cage free and free range; our eggs are collected daily, washed and refrigerated.

Did you know that chickens don't need a rooster to lay eggs? They only need a rooster if you want a fertile egg or to hatch baby chicks.

Our eggs sell for $4.00 per dozen for pick up at the farm. Not sized, graded or candled.

Since we are a working farm we are not always available so we ask that you give us a call OR TEXT if you need eggs and we will be happy to schedule a pickup, since we have a locked gate. We appreciate your understanding.











---
YOGURT
Delicious and healthy for all, this goat milk yogurt is prepared unseasoned with no sugar, binders or preservatives. It is thick and creamy, and we use imported and domestic yogurt culture. Mild to slightly tart, it tastes like the old-style European yogurt. Our yogurt is fermented and not heated after processing, so the live cultures are not killed but go dormant when frozen. When the yogurt is unfrozen and eaten, the live cultures are reactiviated. See www.aboutyogurt.com for more information. And our goats and our dogs, the Rosie B and Ellie Mae (the puppy) love it.Call to order yours today. Sold frozen at $6.00/pint.
---
Goat Cheese

FROMAGE D'CHEVRE
Soft and creamy, goat's milk cheese is called Fromage d'chevre, French for "goat cheese." We make this cheese by special order. Sold in 10 oz. containers for $10.
Call for more information and availability.


We sell our special home-made hot pepper jelly - Pineapple Mango Habenero Jelly - at $6 jelly jar, $12 pint jar, when available. It is delicious on the chevre and makes a great appetizer.


---
GOAT MILK SOAP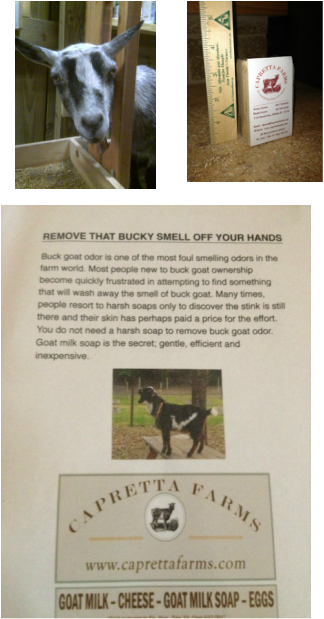 Our goat milk soap is made the old fashioned way, a cold process method, and has a natural scent, with no added preservatives, fragrances or dyes. It is aged and cured for over 6 weeks and then shrink-wrapped. We use our own goat milk, several vegetable oils and lye. Rich and creamy, it lathers well and helps with dry or sensitive skin. Will soon be available as we sold out of our last two lots.




Ever wonder how goat soap became so popular? I think it started with goat shepherds, who had to deal with the bucks who can really smell when in rut. We found that the odiferous and obnoxious smell came off easily when using our home-made goat soap so give it a try, it helps with us humans also.


Each bar weighs approximately 4 ounces, and sells for $4 each.



---

This has to be a labor of love, because it took all day. But even though you can buy the supermarket soaps, there is nothing better than a natural based, home made soap - it lasts longer and feels better to the skin.
FEED MASTER REGISTRATION #Z002322 2017-2018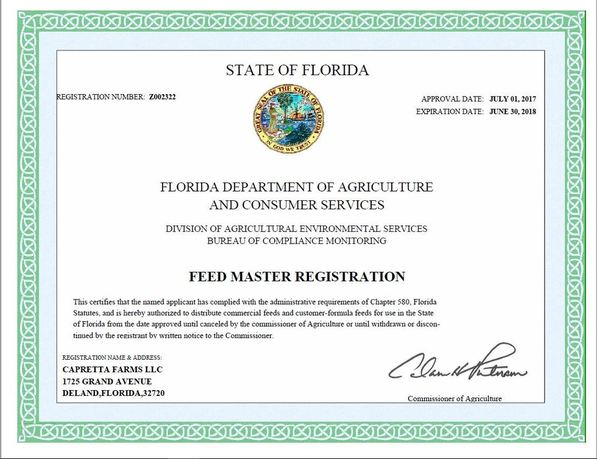 All consumable products sold for animal consumption only per Feed Master Registration and pursuant to Florida Statutes.
---